Open Spaces Newsletter – Spring 2021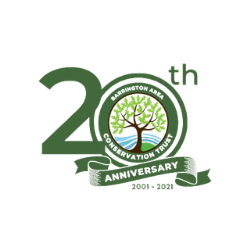 Barrington Area Conservation Trust News
Spring 2021
What an Earth Day!
#RestoreOurEarth
Some 50 volunteers planted 700+ plants, spread a mountain of mulch and cleaned up a half dozen garbage bags worth of roadside trash! Much of this great day was made possible by a generous grant from the Illinois Clean Energy Community Foundation.
Roslyn Road Girl Scouts, Barrington High School Students, Barrington Breakfast Rotarians, along with Barrington Area Residents donated their time at this Pederson Preserve Stewardship Day.
Kaleidoscope School of Fine Art masterpieces were on display, as well as featured in an Earth Day video montage accompanied by the musical talents of the Barrington Youth Orchestra.
What's up with the scorched earth??
Regular controlled, prescribed burns are a critical tool in the conservation toolbox. These burns help to control weeds and return nutrients to the soil. This restorative therapy is critical to land stewardship.
This spring at Pederson Preserve, we had to pay special attention and actually skip burning some of the non-native, invasive growth because the sandhill cranes have returned! They are currently nesting and we should soon see chicks strutting about!
Getting to Know the Board
President Bryan Croll joined the board in 2009, when he and BACT founder Mary Bradford-White connected over his background in land, water and environmental science, as well as his views on land trusts.
"It's been a great experience ever since!" said Bryan. As Board President for the last 2+ years, he has become more involved with our partners and gained a better perspective on our role in the community. Bryan firmly believes that BACT is important to a lot of people and that we all work together to make a positive contribution.
Bryan remembers the first planting day BACT had at Pedersen Preserve. He took his three kids, aged 4, 2, and just a month old. Courtney helped him plant plugs, William dug in the dirt and Josie held Evelyn on that beautiful fall day.
Upcoming Events ~ Save these Dates!
June 27 - WorkDay at Pederson Preserve - Sowing Seeds ~ Register
August 28 - 20th Anniversary Tartans for the Trust ~ more details coming soon!
October 3 - OaktoberFest ~ stay tuned!
Remember that each acre restored,
each habitat protected
begins with you!
For 20 years,
BACT has been preserving and restoring
these special places in our community.
We need your help to continue these efforts.
Thank you!