Open Spaces Brief – May 2021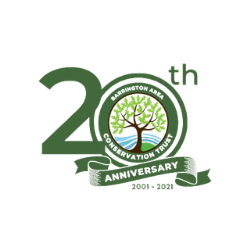 Barrington Area Conservation Trust
May 2021
American Wetlands Month
May was first celebrated as American Wetlands Month in 1991. The U.S. Environmental Protection Agency (EPA) joins other federal, local, indigenous and private partners to educate, involve and engage Americans in this valuable but rarely understood natural resource.
Per the EPA, "Wetlands are the link between land and water, where the flow of water, the cycling of nutrients and the energy of the sun meet to produce a unique ecosystem characterized by hydrology, special soils and vegetation." They improve water quality, aid in flood abatement, store water and promote groundwater recharge, reduce erosion, support fisheries along with other flora and fauna habitats, all while providing opportunities for education and recreation.
Katie's Marsh
BACT stewards
an almost 7 acre wetland preserve
right here in Barrington!
Katie's Marsh was donated to the Trust in 2016.
History
Prior to European settlement, this area was part of a swampy depression that divided the hardwood forests of the north from the great plains of the Midwest. The indigenous Potowatomi people were pushed westward and the European settlers arrived in the mid-1830's.
Katie's Marsh was used for agriculture through the 19th and early 20th centuries. Drain tiles were even installed around the area to try and improve usability. Ultimately, it was consolidated into a large estate and was then transformed into a lush botanical garden with an artificial pond.
Nature reasserted herself by the 1970's, but the sedge meadow did not reemerge until the 1980's and 90's. At that time, a small woodlands also evolved - filled with box elder and ash trees, but with a dense understory of invasive buckthorn and honeysuckle.
Today
The preserve has now returned to its original state as a low-lying wetland dominated by a large sedge meadow that is unfortunately choked by invasive Reed Canary Grass.
BACT has begun the tedious process of removing invasive species while re-introducing native plantings and will continue to revive the preserve in cooperation with the neighboring land owners. A Scout project planting a native raingarden is already scheduled for this summer.
Upcoming Events ~ Save these Dates!
June 27 - WorkDay at Pederson Preserve - Sowing Seeds ~ Register
August 28 - 20th Anniversary Tartans for the Trust ~ more details coming soon!
October 3 - OaktoberFest ~ stay tuned!
Remember that each acre restored,
each habitat protected
begins with you!
For 20 years,
BACT has been preserving and restoring
these special places in our community.
We need your help to continue these efforts.
Thank you!