Open Spaces Newsletter – Fall 2021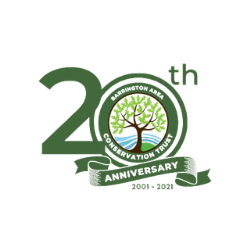 Barrington Area Conservation Trust News
Fall 2021
What
an amazing
afternoon!
Thank you to our incredible sponsors, vendors and guests for making this a day to remember!
We can't wait to do it again in 2022!
2021 Summer Intern Celebration
Our 2021 Interns gathered at Far Field on August 17 for an end-of-summer celebration. The students showed off the Preserve to their families, although everyone expressed surprise over how different Far Field looked now in August versus June when the Interns were in the field! The plants evolve daily and the ever changing vista is beautiful to watch.
BACT Board Vice President Matt Vondra welcomed everyone and Conservation@School Coordinator Navraaz Basati described the activities the Interns had participated in. She also brought ink that she had made from native chokeberries, along with seed paper to paint on! Even parents broke out their inner artists!
Guest speakers from the internship weeks joined us again and Far Field's donor, Mary Smith, spoke of her history with the land and the joy of watching it flourish. It was a beautiful summer evening in the Preserve!
Students from Barrington High School will be visiting both Far Field and Pederson Preserve during this school year for some hands-on citizen science. Next up at Far Field – OakTober Fest on October 3 – watch our website for more info to come!
Have you Heard?!
BACT has a PODCAST! Hosted by our Conservation @School Coordinator, Navraaz Basati, these Conversations will take you on the journey with us as we preserve the exceptional open spaces in the Barrington area!
Coming soon – "Name that Tree" – we will identify native trees and their role in Barrington's ecosystem, why the canopy is so important and some of the challenges trees face, including the nemesis of the mighty Oak – oak wilt. Our debut episode, "Let's Talk Conservation!", is an overview of our Barrington area's history.
Listen on your favorite podcast directory or on our website ~ enjoy!
Oak Wilt
Awareness
Those mighty oaks can be felled, rapidly and silently with no axe or chainsaw in sight. OAK WILT can kill a previously healthy oak within weeks after infection.
Caused by the fungus Ceratocystis fagacearum, oak wilt is a serious disease threat in the eastern and central US. It can be found in all counties of Illinois and 18 other states.
The fungus invades the water conducting tissues and induces the tree to clog its own vessels, preventing the normal flow of water – thus the leaves will wilt. It spreads from infected trees through the root entwined with neighboring oaks and also via insects carrying the spores from one tree to another.
All oaks are susceptible to oak wilt. The red oak subgenus, which includes red, black, Hill's, pin and scarlet oaks, is more susceptible. This group dies quite rapidly. The white oak subgenus (white, bur, English, swamp white and chinkapin) typically develops symptoms more slowly, showing branch dieback for years before dying.
Red Oak subgenus
rapid wilt starting at the top of the tree and progressing inward and downward within weeks

leaves may curl and become stiff

complete leaf drop usually in the middle of summer

dropped leaves may be grayish-green or brown at the tip and margin, yellow or bronze

profuse suckering at the tree base

cross-section of an infected branch may show brown streaking in the outer ring of sapwood
White Oak subgenus
similar to red oaks but spread more slowly and localized

complete defoliation does not occur

may develop a "stag head" isolated dead branches at the crown
NOTE: symptoms can be confused with other issues and can only be confirmed with lab test
Steward Your Oaks!
A certified arborist can guide you
Minimize pruning – avoid any unnecessary wounding. DO NOT prune between April and October. Open wounds attract beetles active during this time and that can increase the likelihood of infection.
Remove infected trees immediately.
Sever (mechanically or chemically) root grafts – the underground points where tree roots have become intertwined and conjoined.
Remove infected wood. Purchase firewood only from legitimate sources to prevent importing the fungus.
Fungicide injections can be applied by professionals under certain circumstances for high value trees.
For more information, visit the Morton Arboretum. Also, The Field Museum Oak Identification Guide. Fun Fact: The White Oak is the Illinois State Tree!
Photos courtesy of illinois.gov, wisconsin.gov, texas.gov, michigan.gov, MSU
Upcoming Events ~ Save these Dates!
September 19 ~ The Hills are Alive! ~ Noon – 4pm
Join us at the Barrington Hills Village Hall
for an afternoon of family fun
October 3 ~ OaktoberFest ~ Noon – 3pm
Far Field Nature Preserve
Annual family outing includes planting, collecting and sowing seeds,
farm stand, plant sale, music, treats and more!
Remember that each acre restored,
each habitat protected
begins with you!
For 20 years,
BACT has been preserving and restoring
these special places in our community.
We need your help to continue these efforts.
Thank you!
Do you know how easy it is to help
preserve Barrington's rare and exceptional open spaces?
When you shop on Amazon be sure to use
Designate Barrington Area Conservation Trust
as your charity of choice